Why Choose MN-PS?
The Reasons to Consider Alex Comfort, CFRE and Mountain Non-Profit Solutions:
Experience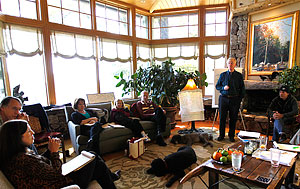 Alex Comfort will tailor a project to your individual situation
Eight years in the full-time Episcopal Church ministry and participated in three area-wide capital campaigns, 1978-1986.
One of the top Campaign Directors for Ward, Dreshman, & Reinhardt, Inc. – the nation's first fundraising firm, 1986-1988.
Director of Development for Covenant House New Orleans (a national shelter for homeless teens), 1988 – 1992.

Alex will guide your project with experience, compassion and humor

Increased annual revenues by 43%.
Directed its first capital campaign for $400,000.

Vice President, LSU Health Sciences Foundation, 1992-1996.

Created and expanded fundraising, capital campaigns and endowment programs at Schools of Medicine, Dentistry, Nursing, and Allied Health.
Was the consultant for the formation of the Foundation for the School of Medicine in Shreveport.

Associate Vice Chancellor for Development, Principal Gifts, and Planned Giving, University of North Carolina at Asheville, 1996 – 2007.

Took annual giving from $900,000 to $3.5 million.
Increased percentage of alumni giving from 6.7% to 14.3%.
Served as Campus Director for UNC Asheville's first capital campaign, raised $11.1 million on an $8 million goal.
Was the Capital Campaign Director to build the Reuter Center, the home of the Center for Creative Retirement, $4.2 million.
Secured naming gift for the Kimmel Arena for the Wilma Sherrill Center for Health and Wellness.

Executive Director, Cradle of Forestry Interpretive Association, Brevard, NC, 2007 – 2011.

Re-structured a $2.5 million a year non-profit which was losing $250,000 per year.
Left it with $300,000 in the bank and the ability to hire a full-time Executive Director.

President, Mountain Non-Profit Solutions, LLC, 2009 – present. Conducts feasibility studies and directs capital campaigns, planned giving and endowment programs, and development analyses for clients.
Author, Even a Blind Squirrel Finds an Occasional Acorn: Fundraising Tales from the Front Lines. Books available from www.mn-ps.com at $15.99 and through Amazon.com at $17.99.
Pro Bono Activities
Through the Association of Fundraising Professionals of New Orleans, personally consulted with and augmented fundraising for 11 area non-profits from 1991-1996.
As Board Member of the Melvin R. Lane Fund closely advised 12 area non-profits, 1997 - present.
As member of the Association of Fundraising Professionals, Western North Carolina Chapter, 1996 - present, President (2013 - 2014) consulted with and assisted 7 area non-profits, 1998 – present).
Affiliations and Awards
Association of Fundraising Professionals, 1989 – present. Board member 8 years, Chair of National Philanthropy Day, 3 times. Frequent presenter and lecturer. President of the WNC Chapter of AFP, January 2013 – December 2015.
Certified Fund Raising Professional (CFRE), 1991-2007, 2014 - present.
Board Member, Melvin R. Lane Fund, 1997 – present.
Outstanding Fund Raising Executive, AFP New Orleans 1995.
Outstanding Fund Raising Executive, AFP Western North Carolina 2010.