Fundraising Bootcamp!
Fundraising Bootcamp:
Generally held the second week of
January and the second week of
June at WCU, Biltmore Park.
Cost: $550 for 4 days
To register
Call: 828-691-6135
email: alex@mn-ps.com
Alex Comfort, CFRE, in partnership with Western Carolina University, Biltmore Park, has pioneered a comprehensive 4 day training program for Executive Directors, Development Directors, Board Members and Staff. It teaches the entire field of fundraising and how to put it into practice.
Sessions are held two to four times per year depending on need and interest. Classes range in size from 7 - 20 people. Call for more information.
Fundraising Boot Camp Daily Summary
DAY 1 MORNING
What makes a good fundraiser?
What do donors want and why do they give?
The importance of understanding your non-profit.
Introduction to Board Members.
Constructing your case for fundraising.
How to tell your story.
Gift Acceptance Policies and why they are important.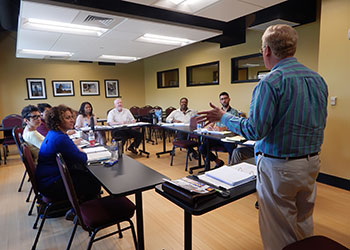 DAY 1 AFTERNOON
Making your annual plan.
Goals and accountability.
How to accomplish your Annual Fund.
Tips on printing, personalization, and contact pieces.
What is the best use of social media?
How to upgrade gifts – introduction to major donor fundraising.
DAY 2 MORNING
Special Events as friendraising as well as fundraising.
How to position special events in your yearly plan optimally.
Back office accountability – donor tracking, computer systems and analytics.
Comprehensive conversation on Board Members.
How to accomplish strategic and tactical plans and how to use them.
DAY 2 AFTERNOON
Engaging your major donors.
How to thank your donors.
How to listen to your donors and read their non-verbal language.
The double donor visit.
How to solicit your donors.
More on upgrading your donors.
Moves management.
How to recruit and use a development committee.
DAY 3 MORNING
Donor recognition.
Completing and evaluating the Contact Report.
Corporations and Foundations.
Grant writing.
Prospect clearance and introduction to prospect research.
DAY 3 AFTERNOON
Major Gift Campaigns.
Capital Campaigns.
Endowment Campaigns and other ways to create endowment.
Prospect Research for larger gifts.
DAY 4 MORNING
How to do Planned Giving. Really, you can!
Roadblocks to successful planned giving – the elephant in the room.
Making it simple – the 6 questions.
The art of knowing how to include planned giving in major gift solicitations.
STUMP THE FUNDRAISER – AMERICA'S NEWEST FAVORITE GAME.
Earned Income Strategies.
DAY 4 AFTERNOON
Ethics.
Being a fundraising professional.
Career progression.
How to conduct a search.
How to win a new position.
The ethics of moving to a new position in the same area.
9 things you need to do right away!
General Q & A.