Church Support
Churches are very unique when it comes to raising money. After many years of experience all across the United States, Mountain Non-Profit Solutions is positioned to: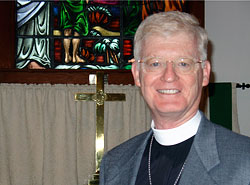 Alex Comfort
Understand the needs of each individual church.
Integrate its spiritual life into fundraising programs.
Encourage increased levels of giving to meet growing needs.
In particular, most churches have emerged from the recent economic downturn but have real concerns for the future. Capital campaigns seem dangerous, and effective planned giving programs seem impossible. However, these are more possible than it may seem and, in fact, can help increase annual giving.
Of particular importance is 3 Dimensional Planned Giving: Sharing Life's Treasures, our planned giving program which embodies planned giving techniques, end of life issues, and spirituality. It accomplishes two important goals:
It is a comprehensive plan giving you all the materials you need.
It begins with a traditional planned giving program, but you can incorporate 23 other aspects of end of life planning so that parishioners can truly be ready for the last third of their lives. This planning can significantly decrease the tensions which lead to "cut offs" that kill the harmony in a family.
Let us help you with the following:
Designing statistical ways to measure your program and finance success.
Creating effective annual stewardship programs which work.
Designing a comprehensive endowment plan.
Considering a capital or endowment campaign which will not affect annual giving negatively.
Leading you into a successful planned giving program which you can accomplish yourself or with some augmented assistance from us.